Nigerian Naturals : 4 Tips To Help You Survive A Trip To The Salon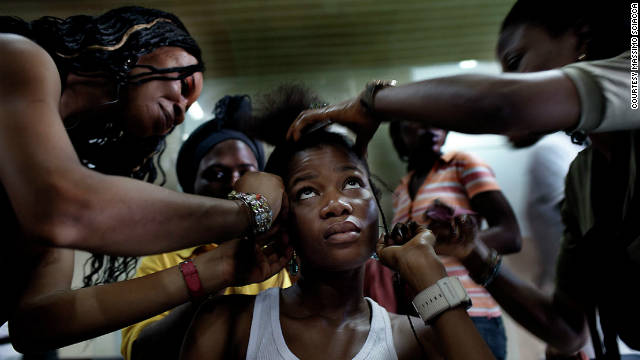 Some hairdressing salon in Nigeria are already learning how to care for Natural hair but MOST of the salons are still lost when you walk into their shops/salon with your hair like a lion's mane and I learnt the hard way. I made one Senegalese twist sometimes ago and the lady while trying to make the braids neat was using candle to burn the attachment,little did I know she was also burning my hair,by the time I looked up it was too late,while I confronted her with tears in my eyes,she kept looking at me like I was crazy and she said something along the line of "Your hair was coming out and I had to make the twist look neat,BTW it is just hair it will grow back" I almost slapped her destiny. By the time I loosen that braids, the damage had been done but I made sure that was the last time I ever went to a Naija salon without my survival Tips.
Tips To Help You Survive
1)
Lay down the rules
: This is the first thing I do after greeting the whole occupant of the salon, It may not sit well with some people both other customers (1 see people give me the look of
how much hair is this one making that she is shouting about
) and SOME hairdressers(
Shey this one know my job more than me ni
) but nevertheless I do it. Since the only thing I do in salon is to braid my hair (I do not fix weave, I buy my wigs from @wigsbysally). Before I let anyone touch my hair, I state my rules which include :
Please do not use the blue tail comb on my hair.
Please use the oil I brought to oil my scalp and hair as you are making each braid.
Stay TF away from my edges. (some of them complain it will not be neat and I tell them I have edge contol to use on it)
keep the flames away from my real hair.
Please If you know you cannot do exactly what I am showing you on the phone,please tell me.(They will never tell you)
You have to be very nice when stating these rules though cause no grown up like to be told what to do but you have to do it for the health of your hair.
2)
You have to be firm
: If you are the type of person to avoid confrontation then I will advice that you either stay away from Nigerian hairdressers or you have to change. You have to be firm with whosoever is touching your hair. I was at one salon the other day,after telling this young lady I did not want her to use the tail comb on my hair, I felt a tug in my hair only for me to look into the mirror to see she was using the tail comb on my hair. I wasted no time in giving her a piece of my mind.
3)
Hold your Products
: Majority of Nigerian Salons have not yet adjusted to the Natural hair care regime therefore you are going to be disappointed If you go there without your oils,butter,conditioner,just be on the safe side and hold whatever you may need on your hair, If not, they *in DJ Khaleed's voice* will just pack weave on gloss and oil sheen on your hair.
4)
Be ready to pay a little extra:
You are going to hear all the various version of "your hair is too much o,The time I will use to make two people's hair is what I am spending on only your hair". It actually makes no sense but just indulge them by holding extra money.
If you can make your hair yourself or you have a Natural friend then you are lucky but some of us just ain't good with DIY therefore we have to face this necessary evil. The best advice I can give is for you to have a regular customer so you know after laying down the rules the first time,she/he get use to it and you don't have to repeat yourself or fight every time you want to make braids.
Picture gotten from the internet.
Braiding , Braiding Tips , Naija Salon , senegalese twist , Tips