How I Crashed Ooni Of Ife's Traditional Wedding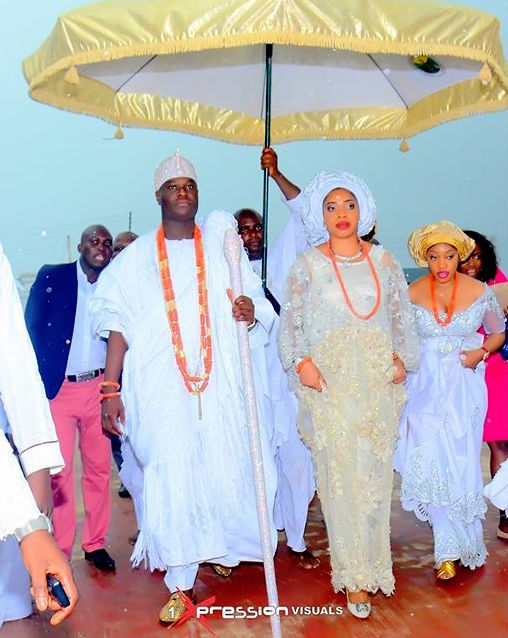 One minute I was in my room blogging, the next minute I was at the venue of the Ooni of Ife's Wedding *silence* uninvited. Don't blame me ,blame NEPA/PHCN. My friend and I went to greet a friend of his in G.R.A area of Benin city. After waiting for NEPA to bring light to no avail, we decided to go out but since we were all broke *at that point in our lives* we had limited option. The friend we came to see started gingering us to just "drive by" the reception of the Ooni of Ife's wedding and we decided to. The bad part was that none of us was dressed for the part, When we got to the venue,we drove in, park the car and then I lost my nerve. I told my friends to go in without me ,that I would be fine in the car, I was so sure I was going to see them in the next 5 minutes,bounced from entering the tent but that was not the case, after waiting for 20 minute without seeing them thrown out of the venue, I decided to go in the tent.
The tent was filled with people that came to celebrate with the couple, The decoration was beautiful and the bride looked lovely in her attire, I looked for the Ooni and did not see the guy. I was shocked it was this easy to enter an high profile wedding like this. I thought I saw Alaafin of Oyo but when I did not see four light skinned women in matching attire behind him, I knew he was not the one.
The party was really cool,people were allowed to take pictures with the bride and whosoever was sitting beside her in place of the Ooni. After taking a drink and giggling cause I still could not believe how easy that was, we left.
Photo credit: Xpression Visuals
Bucketlist
Party crashing
✓
Nigeria Monach , Oba , Ooni Of Ife , Xpression visuals